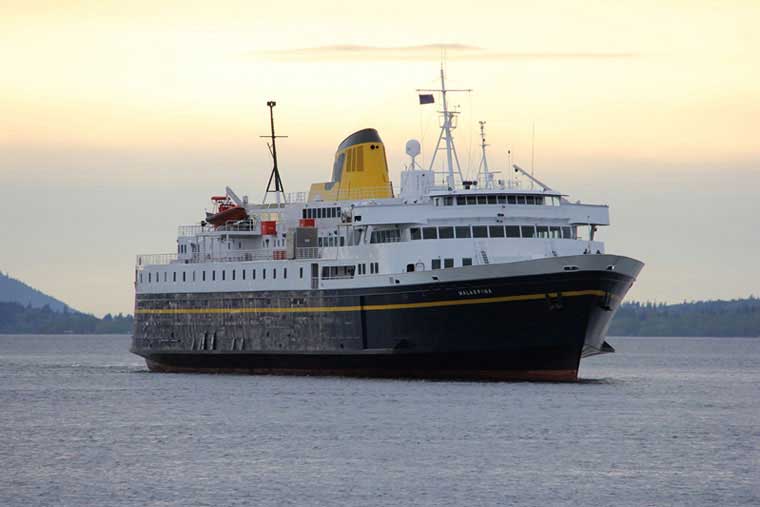 Juneau, Alaska (KINY) - The Alaska Marine Highway winter ferry main line will begin service on Feb. 13, said DOT Public Information Officer Sam Dapcevich. In the meantime, local service for the Northern Panhandle is being provided by the Tazlina while the LeConte is offline for overhaul work.
"Right now we have the Tazlina operating in northern and the Northern Panhandle," said Dapcevich. "It's operating four days a week, providing service between Juneau, Haines, and Skagway, Gustavus, Hoonah and Angoon. And then for Kake and Tenakee. We have contracted service with catamarans that are running out into those communities on a schedule. So people can book those trips on the very alaska.com website. We're going to have the Columbia coming online February 13. In place of the Matanuska; the Matanuska will be out for likely for an extended overhaul to deal with some steel issues and some issues related to fire detection systems."
The Columbia will be replacing the Tustemena for winter service as it is overhauled. The winter service will be providing a weekly circuit from Southeast Alaska down to Bellignham.
Public comments will be taken this Friday and over the next couple of weeks for the summer ferry schedule. Dapcevich offered a glimpse at the anticipated summer service.
"The Tazlena is operating four days a week while the LeConte is offline for its overhaul," he said. "When the LeConte comes back online, the Tazlena will likely go back into standby status. Then we'll have a mainline mainline ownership the Columbia will begin operating again on February 13. And that will be doing the Bellingham through Southeast Alaska circuit. We also have ships operating up in Prince William Sound we have the Aurora operating. And then the test Amina is out for an overhaul right now but it will be operating out in southwest Alaska when it finishes its overhaul."
He said, currently there aren't any ferries running to Sitka and Ketchikan because they don't have a main liner operating right now due to a service gap for main liner service in Southeast Alaska.
Public comments will be accepted this Friday and additional comments will be accepted over the next couple of weeks.
This year, Dapcevich said, they will also be operating the Columbia and the Kennicott through Southeast Alaska. "We are hoping to operate the Hubbard, which is a sister ship to the Tazlena, and it had a crew quarter's project that just finished up. If we can get that one if we can get enough crew recruited to get that ship online, then we'll be shifting the LeConte schedule to provide more service to the smaller communities in the Northern Panhandle."