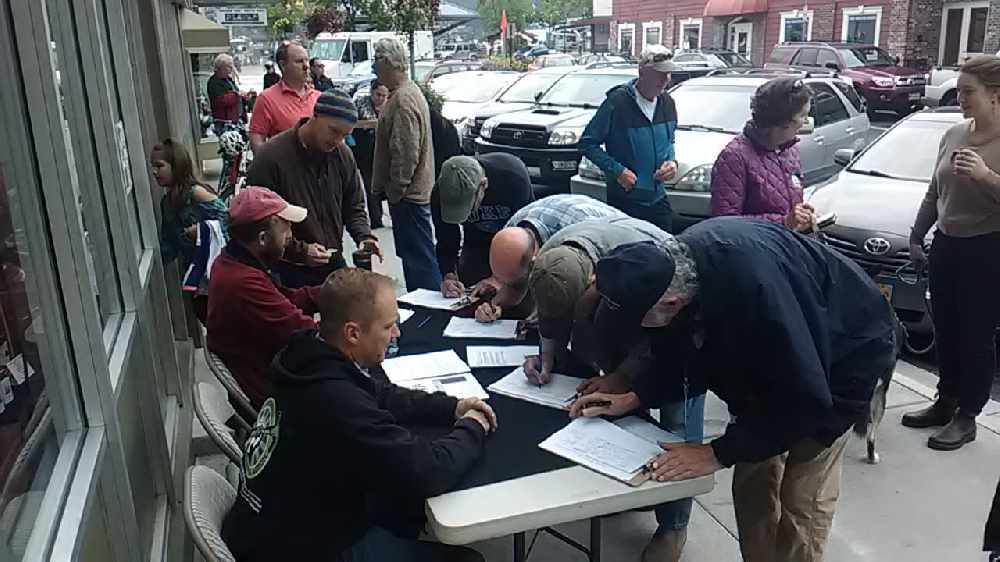 Voters sign a recall petition against Gov. Mike Dunleavy in Juneau.
Juneau, Alaska (KINY) - An effort to recall Gov. Mike Dunleavy began on Thursday, as supporters of the movement began collecting signatures in support of removing his from office.
In Juneau, the signature drive took place at in downtown at Planet Alaska Gallery, located at 213 Ferry Way.
Organizers need to gather 28,501 valid signatures from registered voters in order to submit the recall to the Division of Elections. Gallery owner Vivian Mork will maintain petitions during business hours at the store until the statewide number is reached.
The effort is being led by a bi-partisan group, co-chaired by Alaska constitutional architect Vic Fischer, former lawmaker Arliss Sturgulewski and coal executive Joe Usibelli, the chair of Usibelli Coal Mine.
Another round of signature gathering, representing 25 percent of voters in the last election, or 71,252 signatures, will be required to have the election scheduled.
The 200-word recall statement lists a number of grievances for "neglect of duties, incompetence, and lack of fitness."
The group has a Facebook presence with the page Recall Dunleavy.