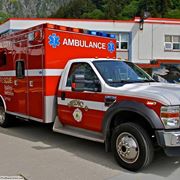 Juneau, Alaska (KINY) - A person was transported to the hospital as the result of a residential fire on Dogwood Lane in the Mendenhall Valley Monday evening.
The alarm came in at about 6:30. The initial report said a person was trapped inside. An update a few minutes later indicated bystanders had rescued the victim and were administering CPR.
Assistant Fire Chief Travis Mead says the fire was knocked down in short order.
He said the CPR was continued on the person while being transported to the hospital by ambulance.
The person's condition was not known at this report. The person's identity has not been revealed.
An estimate of damage was not disclosed and the cause of the fire is under investigation.