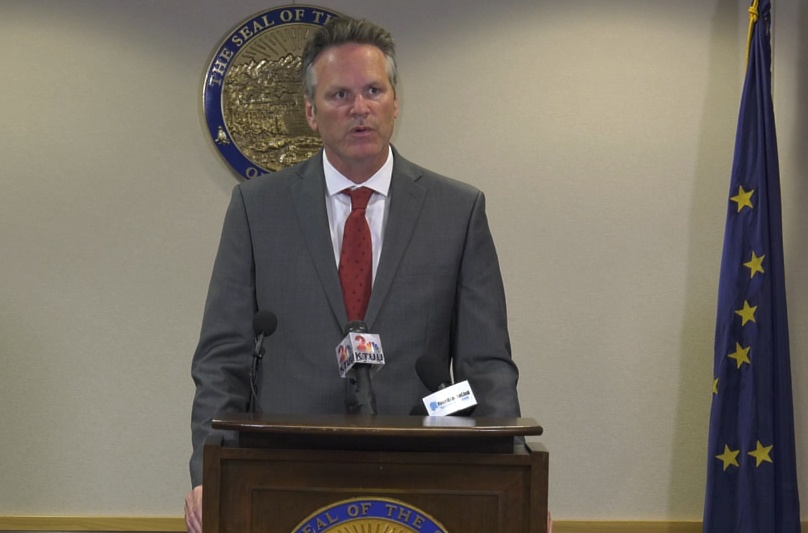 Gov. Mike Dunleavy.
Palmer, Alaska (KINY) - The Recall Dunleavy campaign released signature numbers after the kickoff of the Alaska State Fair in Palmer.
The group says it has gathered 36,731 signatures, exceeding the first preliminary benchmark for a recall campaign of over 28,500 -- 10 percent of the total voters from the 2018 election -- but the signatures now must go to the Division of Elections for review.
The recall signature-gathering effort is in its third week.
They also say that they are continuing to gather signatures through Sept. 2 in case any signatures are disqualified by the Division of Elections.
"Week three of statewide signature-gathering efforts is still going strong to recall Dunleavy," said recall spokesperson Meda DeWitt. "With 11 days left in phase one of the recall process, the numbers keep rolling in. Recall Dunleavy kicked off the Alaska State Fair in Palmer with 300 signatures on the first day. While small towns like Savoonga collected 90 signatures, about 10 percent of the island's population, from their one-day event. The statewide total has reached 36,731 signatures which equals more than half of the 71,252 signatures needed to in phase two."
"We still have volunteers collecting signatures in communities across Alaska who want to be part of this process. There is so much energy behind this movement, Alaskans standing up against the destruction of their state, it is an honor to work with them," DeWitt added.
Recall Dunleavy will continue to collect signatures through the end of the fair on Sept. 2, to compensate for signatures that may be disqualified.