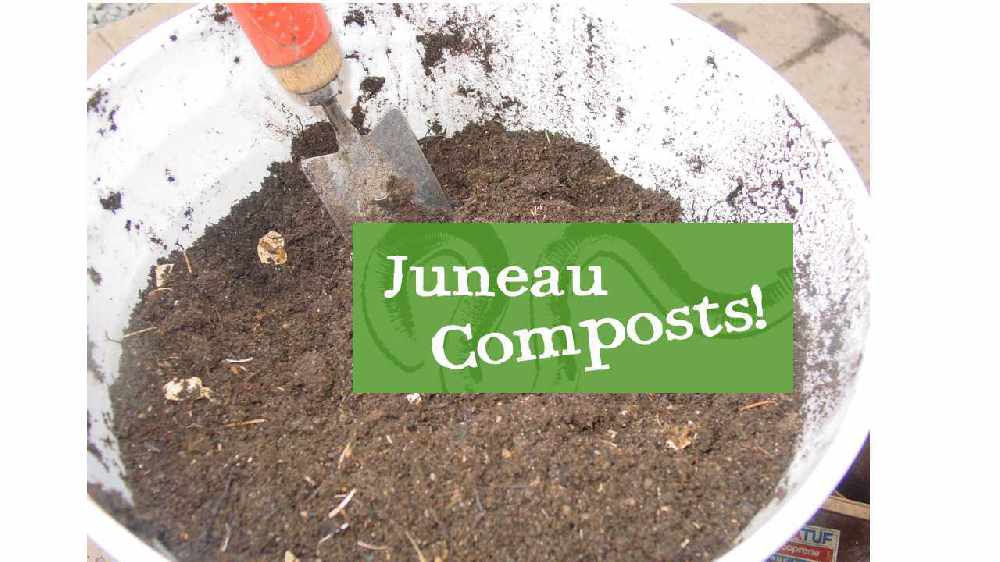 Photo credit to Juneau Composts.
Juneau, Alaska (KINY) - The success of compost relies on the individual and a desire to help the environment and free up precious landfill space.
Composting is a type of recycling. It is defined as the managed rotting of organics.
It diverts methane-producing material from landfills and creates soil amendments. The disposal of food and goods generate 42% of all greenhouse gases. Composting is recycling at the source.
Lisa Daugherty of Juneau Composts was a featured speaker at a public forum on composting hosted by the Juneau Commission on Sustainability at the Mendenhall Public Library. Her question is why should Juneau compost?
Juneau dumps 32,000 tons each year in the landfill. The community could compost 22 million pounds per year. With a declining life span at the Juneau landfill, alternative methods of disposal are on the table.
The environmental benefits of composting include improved soil health and fertility, less nutrient runoff and increased food production. Social benefits include food, waste, and consumption awareness, community building and food and waste sovereignty.
Economic benefits include local jobs for collecting and processing, increased farming opportunities, and reduced costs for municipal solid waste management.
"Who is doing our jobs in garbage? They are not in Juneau. We can make it so all our money is staying in our local system."
Daugherty said food scraps can be an Alaskan commodity and not a waste. More finished compost means local fertility and local fertility leads to more food. More local food will make the community healthier.
Recycling markets are also drying up around the world.
"Composting is something you can do in your community and doesn't depend on what is going on elsewhere," she added.
Juneau Compost started in 2017. It serves 220 residential customers and 15 business accounts. So far they have diverted 180,000 pounds from the landfill.
Compostable materials in Juneau include all food except meat and fish, yard debris, shredded paper, compostable service ware like plates, cups and utensils, Q-tips, hair, fingernails, toilet paper rolls, egg cartons, paper towels, and pizza boxes.
"Anything that was once alive can be composted," she added. She said she doesn't compost fish and meat because it could attract bears and cause problems.
24 states have banned the landfilling of key organic waste streams like yard debris. Five states have organics bans for large generators. 198 US communities with curbside collection of food scraps. "I don't know if Alaska will enact something but we can have it on a volunteer basis of people wanting to do the right thing."
The EPA estimated that 60% of yard trimmings are composted in the US. Food recovery was five percent.
Composting programs are going on in Anchorage, Fairbanks, Gustavus, Haines, Petersburg, and Juneau. Gustavus has a municipal program with the landfill and recycling. Haines has a small scale food scrap service. Petersburg composts fish byproducts. Juneau has a small scale food scrap and yard debris plus many farm-related, and home compost systems.
Daugherty said municipal systems, entrepreneurs and volunteers can all work together to create compost programs.
Some policy questions for communities are ordinances that ban the landfilling of yard debris and food scraps. Others allow homeowners to home compost. Public lands have been made available for drop-off sites. Education programs for kids are needed. Some towns have community gardens that handle commercial compost activity.
Schools, government buildings and jails could lead the way with compost programs for the waste they generate.