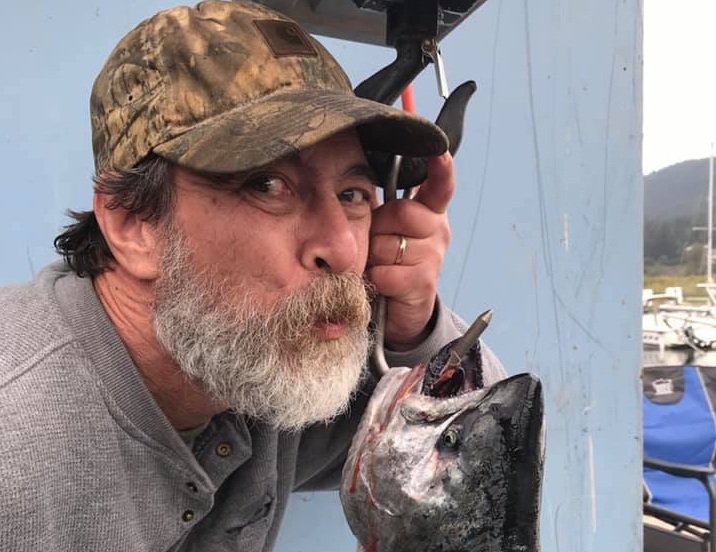 Steve Bogert of Juneau with his 24-pound King at Douglas Harbor on Sunday, Aug. 25.
Juneau, Alaska (KINY) - With a big boom of a cannon at all three weigh station locations, the 73rd annual Golden North Salmon Derby came to a close at 6 p.m. Sunday evening.
While results won't be official until Tuesday night, the unofficial winner of this year's derby is Steve Bogert, who caught a 24-pound King on Sunday and turned it in at Douglas Harbor.
Bogert told News of the North where he caught the fish.
"In the water," Bogert said jokingly from dockside.
The second-place fish so far, unofficially, goes to Jacki Dimond, who turned in a 23.4-pound King at Douglas.
The first-place prize winner pockets $10,000 in cash, as well as additional prizes, while the second-place winner gets two Alaska Airlines tickets and $550 in cash.
Weigh stations were located at Douglas, Amalga Harbor and Auke Bay.
Derby prizes will be awarded beginning at 7 p.m., Thursday, Aug. 29, at Peratrovich Center. Prizes winners or designated representatives must attend the awards night.
Winners must present their entry and weigh-in ticket stubs at the awards night in order to claim their prize. The official list of all prizes will be available on the salmon derby website at goldennorthsalmonderby.com on Wednesday.
Winners of the Scholarship Fund prizes and special prizes must show their scholarship ticket to claim their prize from Territorial Sportsmen, Inc. on awards night.