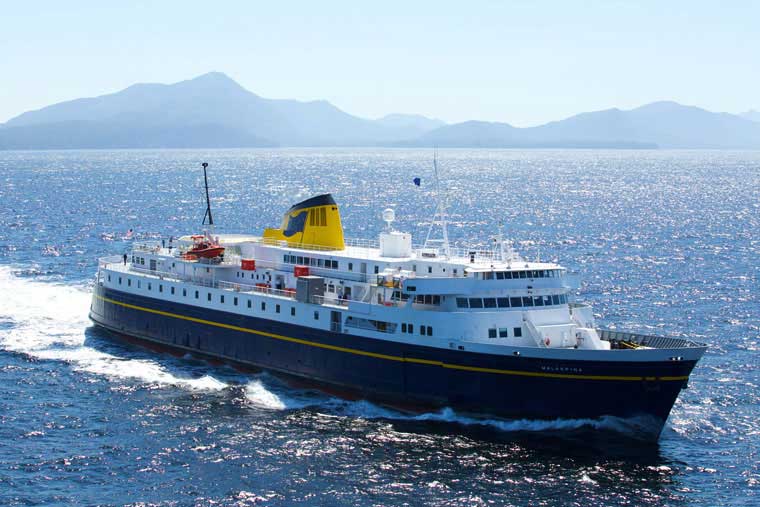 The M/V Malaspina.
Juneau, Alaska (KINY) - The Inlandboatmen's union said it will cost the state $16 million to repair the ferry while it would cost up to $600 million for a new one.
Vice-Chairman Robb Arnold said the state has tried to scrap the Malaspina for 20 years. He said it is one of the most reliable and most economical ferries owned by the state. He said 90 jobs will be lost.
Arnold said the state could let the US Coast Guard Certificate of inspection lapse on the Malispina.
"The state says they can't afford to repair the Malispina. They have spent $60 million on the Matanuska and it has sat in a yard for three years. Supposedly the Matanuska will replace the Malispina," Arnold added.
He noted the M/V Taku had the same issue with the certificate of inspection. It was sold at auction for $150,000. It was full of fuel at the time and the cost of the fuel was more than what the state received for it. Arnold said the buyers of the Taku made about a $2 million profit.
Arnold said he is working on a private group, Friends of the Ferry, that would work to support the marine highway system.
"We feel the ferries are an international interstate and very important to the region."
He said the union is also interested in a study being done by the state on the ferry system that is expected to be released to the public in December.
Arnold said the Malispina should be saved as a backup. "When you have old equipment you need to take care of it. The main problem is the state has deferred maintenance on a lot of this stuff. To replace a vessel like that your talking $400 to $600 million. $16 million would seem like a bargain."
He urged the state to store the Malispina in warm storage and leave the lights on. He said they laid up the Malispina in 1999 and had a large cost to put it back in service when a seal failed in the liner of the ship.
He said there are federal dollars available for the ferry. They pay for capital improvements. The state could use federal dollars to pay for part of the cost of repairing the Malispina.
The Alaska Marine Highway System announced this month that the Malaspina will be placed in unmanned, long-term layup status on Jan. 10.