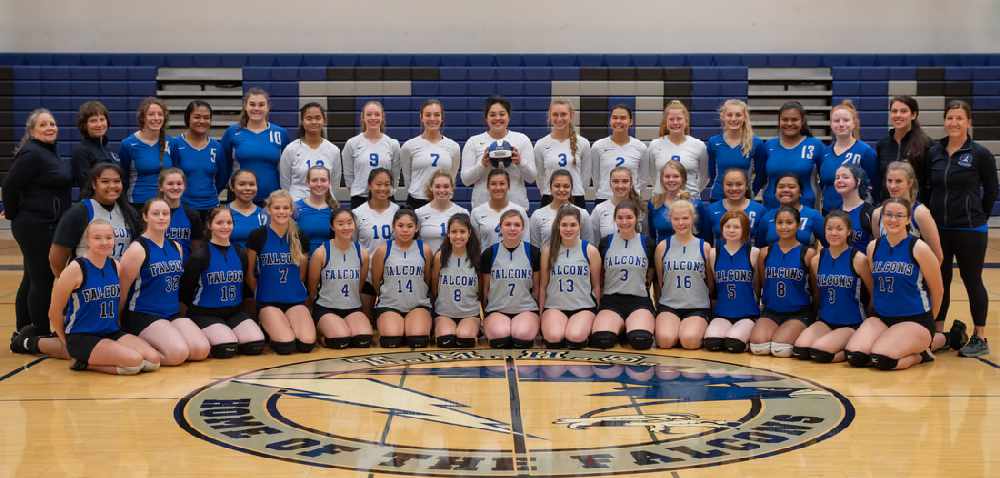 The 2019 Thunder Mountain Lady Falcons volleyball teams.
Juneau, Alaska (KINY) - The Thunder Mountain High School Lady Falcons varsity volleyball team swept Juneau-Douglas High School on Friday and Saturday to end the regular season undefeated in 4A Southeast conference play.
The Lady Falcons squad began their jaunt by beating the Lady Crimson Bears in straight sets on Friday, 25-14, 25-20, 25-20.
On Saturday night, before a packed house at TMHS, the Lady Falcons did it again, besting the Lady Crimson Bears 3-0 (25-16, 25-16, 25-23).
One of the biggest moments of the game came in the third set when Thunder Mountain senior Tasi Fenumiai managed to snag a one-handed return while falling out of bounds. That volley was the beginning of a turnaround for the Lady Falcons, who were trailing until Fenumiai returned to the floor.
With the pair of wins, Thunder Mountain ends the regular season at 16-2 overall and 8-0 in conference. Juneau-Douglas ends conference play at 4-4.
The 4A Region V championship will be Nov. 8 and 9 at TMHS. The 3A Region V championship will be Nov. 8 and 9 and Sitka High School and Mt. Edgecumbe High School.
The 2A Region V championship is set for Nov. 18 through 20 at Wrangell High School.