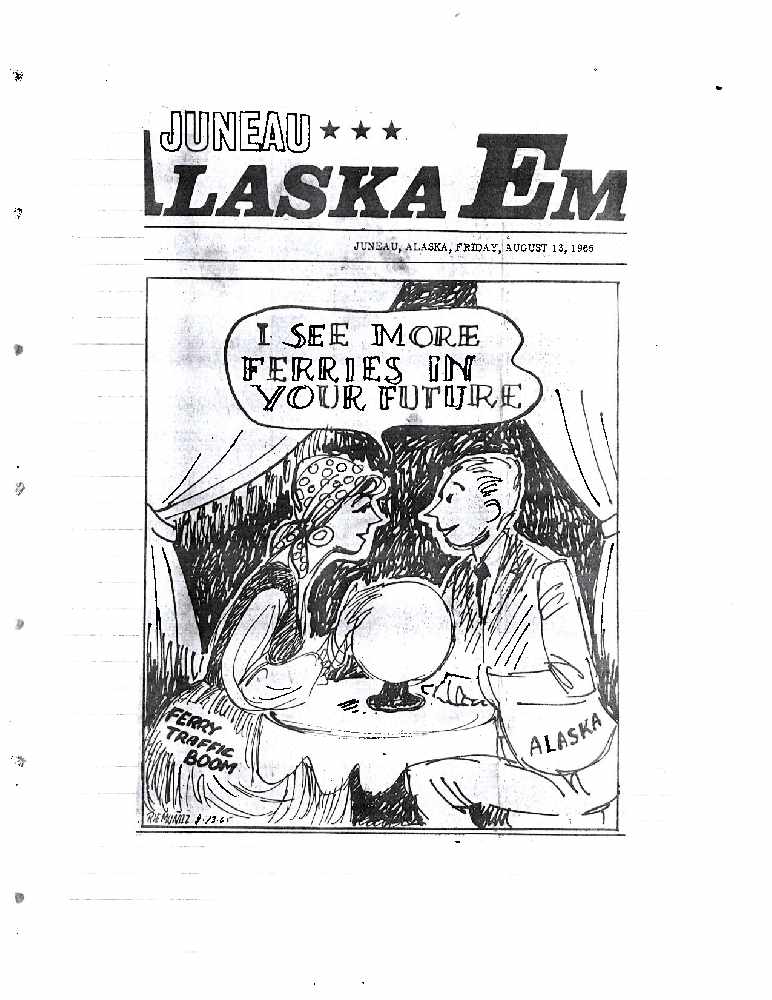 One of Rie Munoz political cartoons. Courtesy of Juneau-Douglas City Musuem.
Juneau, Alaska (KINY) - The Munoz family donated a collection of original artwork to the Juneau-Douglas City Museum.
According to a news release from the museum, the collection includes five original watercolor paintings and 55 original pen and ink political cartoons that were published by the Alaska Sunday Press in the 1950s and 1960s.
Rie Munoz first came to Alaska for a short visit in 1950 onboard the steamship Princess Louise. She said she thought Juneau was the most beautiful spot she'd ever seen and decided to jump ship and try to find a job and a place to stay before her ship was to return to Skagway the next day.
She got a job at the Sunday Press because the editor, who hired her on the spot, liked that she was completely guileless about her lack of newspaper experience.
She later became editor of the Women's Page and covered tea parties, slide shows and cuisine. She later began working on political cartoons
The 55 political cartoons donated to the City Museum poke gentle fun at past local and state politicians and are a fascinating glimpse into Juneau's history. "The cartoons debated topics such as commercial fishing and capital moves, similar issues faced today," says Juan Munoz.
Other cartoons of Juneau's past include Governor Bill Egan's birthday party…"Blow Out for Big Daddy!", soapbox derbies, and "The Popcorn Lady" with her large van of treats for the kids.