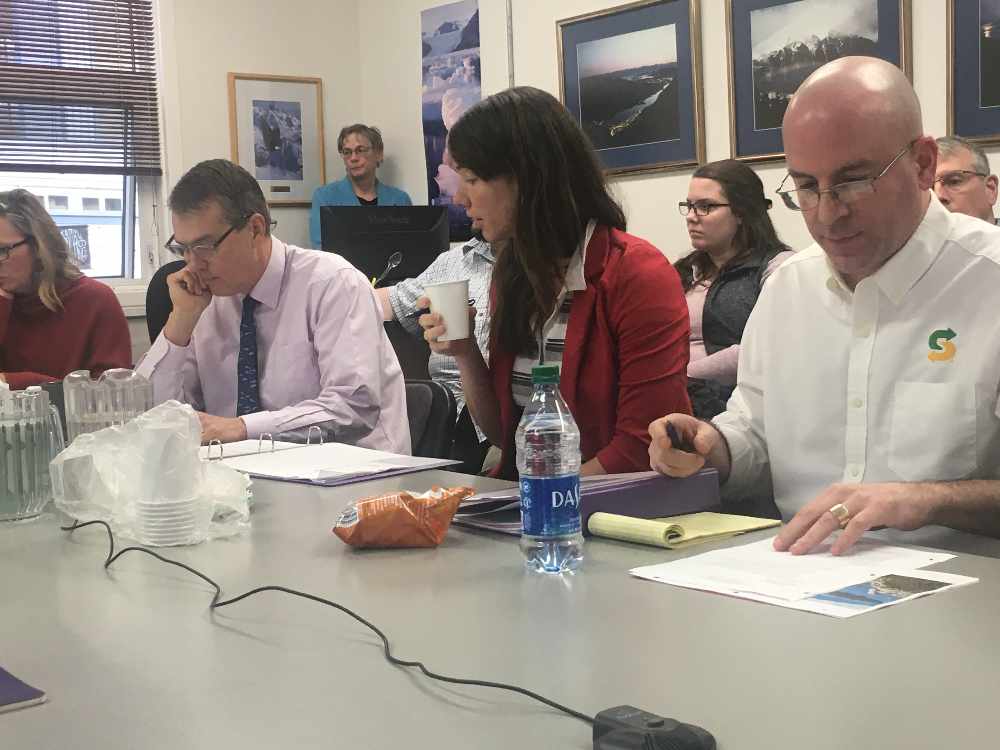 City Manager Rorie Watt (left) gives a presentation on the current schedule of cruise ships in Juneau.
Juneau, Alaska (KINY) - The inaugural meeting of the Visitor Industry Task Force filled a conference room at City Hall Tuesday.
City Manager Rorie Watt gave a presentation on the cruise ship industry and the impact it has on the community.
Norwegian Cruise Lines recently bid $20 million for property at the Subport so they could have a presence in Juneau. Watt said that should not be a surprise.
"We do well portraying Juneau to the outside. People want to come here. We were voted the best cruise ship port in Alaska. It is nice to be in a position of strength and nice to have a good product to manage," he explained.
Watt added that there was a feeling that Juneau has lost control once Norwegian won the bid. He said there still are protections in place that include local regulations and zoning, and the need for a tideland lease.
Tuesday is the peak day for cruise ships in Juneau. Over 1.3 million passengers visited Juneau this year. Cruise ship visitors have increased by 57 times since 1970. Juneau can see over 14,000 visitors in town on Tuesdays during the cruise ship season. Friday and Saturdays are slower days with about 6,000 visitors.
Juneau is one of three ports in Alaska that have moorage for more than two ships. The others are Skagway and Ketchikan. 25 Alaskan ports great cruise ships each year.
Skagway is expected to see changes with the end of the port lease with White Pass coming in 2023. Ketchikan is considering a project at Ward Cove that will increase its cruise ship berths from four to six.
Juneau has attracted over 1 million visitors for much of the past 12 years. They hosted 1.03 million in 2008 and about the same in 2016. The only year under 1 million was 2010 when 875,000 visitors were counted.
Watt said a lot of the growth that comes to the region is driven by the Port of Seattle. There were well over 1.2 million visitors in Seattle this year.
Juneau has more ships during the middle of the week because most cruise ship passengers want to start their vacations on the weekend.

During the season every Juneau berth is filled. Skagway had 25 of 28 berths filled, Icy Strait in Hoonah 11 of 14 and Sitka 12 of 14 berths.

Watt pointed out that the last time the CBJ update the long-range water front plan, 67% of residents surveyed were un-supportive or very un-supportive of construction of a marina and two large cruise ship berths at the subport.
Watt said he expects to meet with Norwegian Cruise Lines officials again during the second week of December. He said he's advised Norwegian to go slow in their planning. "The question is not should Norwegian Cruise lines get to build the dock at the Subport or should restrict the number of cruise ship passengers. The best question is where do we want to go as a community."
A survey found Alaskan cruises are the most popular US vacation. This was according to a survey in the Travel leader's group 2018 travel trends survey. Juneau has some of the highest marks among passengers. Juneau has over 8,000 jobs created by cruise ships, nearly $800 million in passenger spending and $82.9 million in municipal revenues.

The task force discussed ways to shift more cruise ship visitors to Friday and Saturday.
The next task force meeting will be held on December 3 at noon at City Hall.