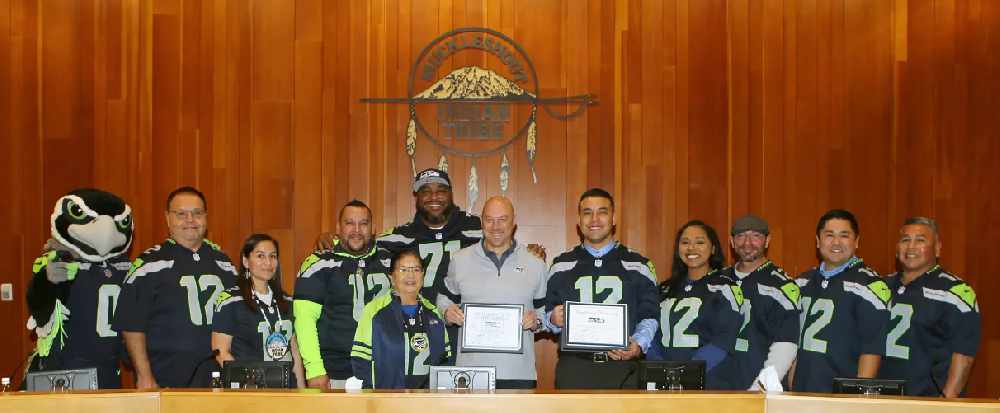 Former Seahawk Walter Jones (No. 71) joins members of the Muckleshoot Indian Tribe on Friday in Auburn, Wash. (Photo by Corky Trewin)
Auburn, Washington (KINY) - The Seattle Seahawks announced Friday a new 10-year partnership with the Muckleshoot Indian Tribe.
In honor of the partnership, the tribe hosted Seahawks executives, along with legend Walter Jones and team mascot Blitz, for a special celebration event at the Muckleshoot Tribal Offices in Auburn on Nov. 1.
The event included cultural performances by tribal members, a ceremonial blanket wrapping with Tribal Elder Royalty and meeting with the Muckleshoot Tribal Council. Jones also spoke to students at the Muckleshoot Tribal School about the importance of education and hard work.
"We are thrilled to welcome the Muckleshoot Tribe to the Seahawks family," said Amy Sprangers, Seahawks Senior Vice President of Revenue. "We were honored to take part in today's celebration event where we saw the Tribe's amazing culture and traditions first-hand. We are excited about what we plan to accomplish together to inspire and enrich our collective communities for years to come."
The partnership includes CenturyLink Field's North Plaza to be named Muckleshoot Plaza. Fans will see elements of the partnership at stadium events throughout the year, including artwork to showcase the history of the tribe, as well as on Seahawks gamedays through annual tribal dance performances.