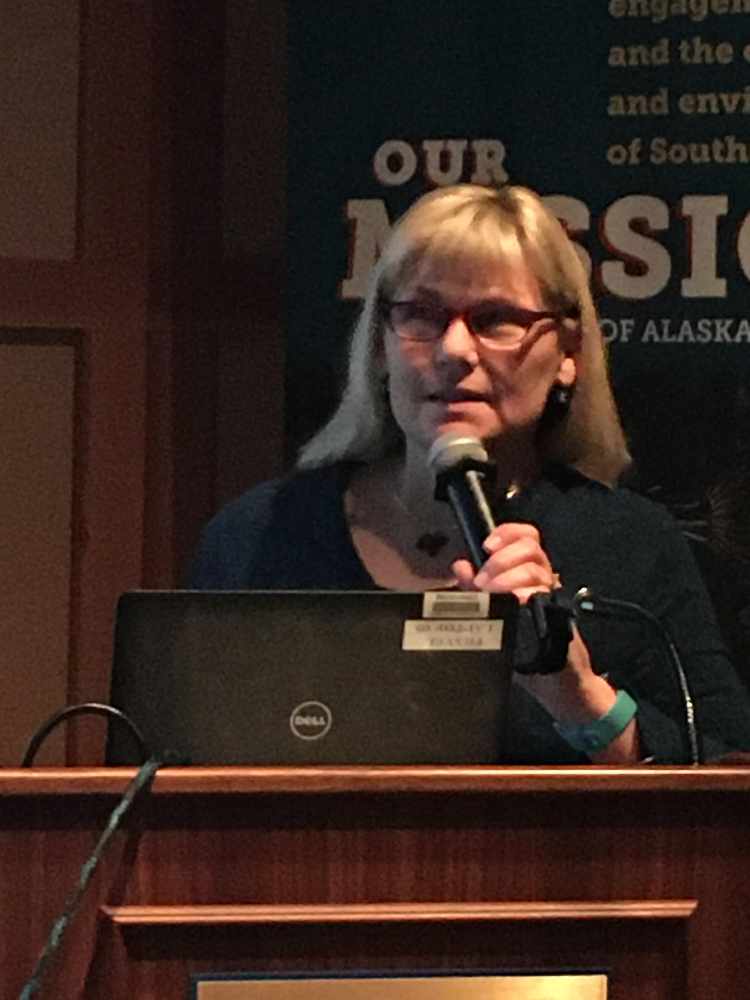 Kim Raum-Suryan.
Juneau, Alaska (KINY) - Plastics and marine debris problems continue to grow often entangling and killing steller sea lions.
Kim Raum-Suryan of the National Marine Fisheries Service Alaska Region, Protected Resources Division, presented from stellar sea lions to the first ocean guardian schools in Alaska. She coordinates the Juneau Schools NOAA Ocean Guardian Program.
Before she moved to Juneau in 2016, Raum-Suryan worked for the Alaska Department of Fish and Game and her own research company, Sea Gypsy Research, and focused on steller sea lion research in Alaska, British Columbia, and Oregon to examine population trends, vital rates, distribution and movement patterns, maternal care, entanglement in marine debris and fishery interactions, and outreach and education.
Marine debris continues to be a problem. It is defined as any persistent solid material that is manufactured or processed and directly or indirectly, intentionally or unintentionally, disposed of or abandoned in our marine environment. It has huge impacts on marine life as they ingest them, get entangled, injured, and transports non-native species.
"Plastics are found in our waters throughout the world. It is a major problem. We must get a handle on single-use plastics," she told the crowd.
Plastics can also harm humans. Once they get into the ocean water they like other pesticides, suck onto them and accumulate them, fish eat them, it affects them, and the humans that eat the fish. "We don't really have a handle on what that is doing to us right now."
One dead sperm whale found in Indonesia had 64 pounds of trash in its digestive system. Another pilot whale died in Thailand after swallowing 17 pounds of plastic materials.
At this rate, plastics will outweigh the fish in the ocean by 2050.
693 marine species became entangled in marine debris last year, a 50% increase since 1997.
She has researched stellar sea lions since 1998. The population of sea lions has declined. They were listed as threatened under the Endangered Species Act in 1990. The eastern population was de-listed from the endangered species list in 2013.
In her research, she found that 830 sea lions were entangled in marine debris or found with ingested fishing gear in southeast Alaska.
Rubber bands and plastic packing bands are common in the waters worldwide. Rubber bands are commonly used in crab pots.
For many years crews did not have a way to disentangle sea lions from debris. They now have a special dart that knocks out the lion while the remain at the surface of the water. Packing bands cut into sea lions as they grow and mature. The crews then remove the band while the sea lion sleeps. To date, her team has successfully disentangled 10 animals, immobilized 13 sea lions and deployed 19 darts.
In some cases, they have attached satellite devices to track the sea lion. One traveled as far as Frederick Sound.
She made the news last summer when she helped rescue a sea lion from the woods in Sitka. They darted the sea lion loaded him into a front loader, into a flatbed truck and drove him to the harbor. They put a satellite on this sea lion. He traveled 337 nautical miles to Baranoff Island. Later he traveled to near Homer. The satellite lasted for 93 days.
She helped the Ocean Guardian School Program at Thunder Mountain High in 2018. It is also in place at Sayeik Gastineau Elementary School and Floyd Dryden Middle School. The schools try to reduce marine debris, work on restoration, and help with other projects. Over 10,000 students across the nation are in the program nation-wide.
The schools hold Assemblies to promote the program, conduct waste audits to show how much food is wasted, and in Juneau came up with composting programs to reduce food waste.
Sayeik Gastineau kept 28,000 plastic 'sporks' from entering into the landfill, started a compost program, a letter-writing campaign and other efforts.
Thunder Mountain conducted waste audits, conducted beach cleanups, reduced single-use plastic water bottles, sold reusable water bottles and sold marine debris bracelets.
A University in Sweden, Chalmers University of Technology has developed an efficient process for breaking down any plastic waste to a molecular waste so all plastics can be recycled.
Efforts are underway to reduce or eliminate the use of plastic straws around the world.
The Alliance encouraged residents to write the District Attorney's Office in the prosecution of Mark Mitchell for illegal traps that killed two bears. The Alliance said over 50 letters were written to the court and the sentencing judge mentioned the comments when Mitchell was sentenced last month.
The Alaska Wildlife Alliance puts on Wildlife Wednesdays from October through March on the first Wednesday of the month at the University of Alaska Southeast.
Audio from Kim Raum-Suryan on her work to help a stranded sea lion in Sitka get back in the water in the summer of 2018.