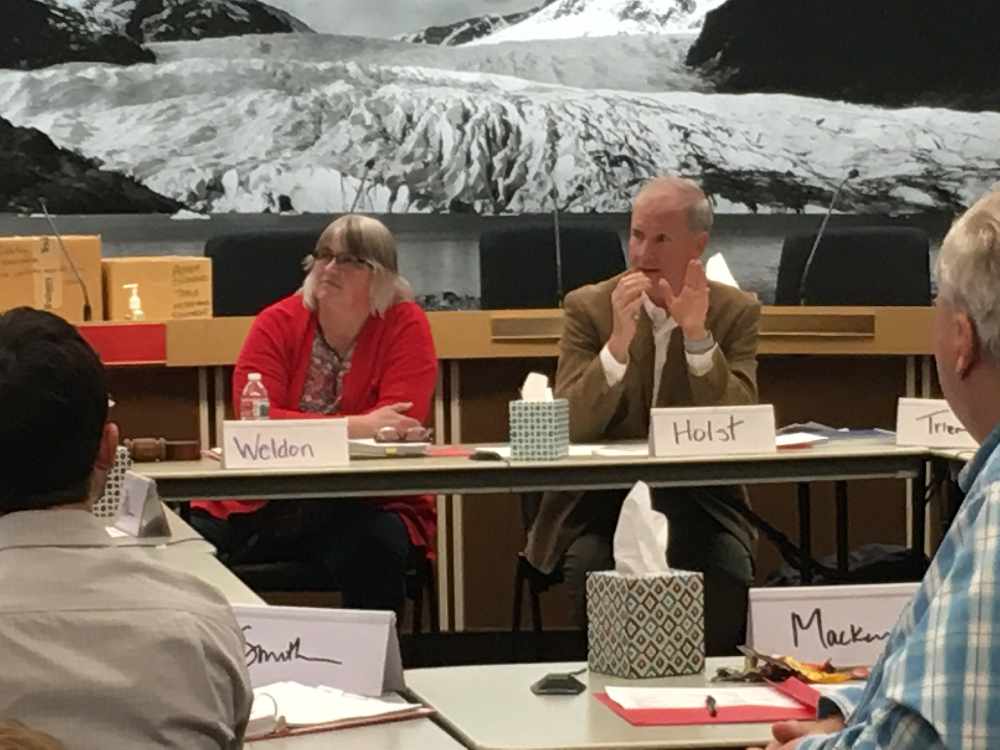 School Board President Brian Holst (right) makes a point during the joint meeting between the Board of Education and the CBJ Assembly.
Juneau, Alaska (KINY) - Getting more children able to read at grade level by the third grade topped the list of goals for 2019-2020.
Other goals include integrating more STEM into curriculums, STEM is science, technology, engineering, and math.
The Board also wants to increase collaboration between the three high schools.
Another goal is to strengthen Tlingit language and culture and partnerships
Another goal is an improvement in kindergarten readiness.
Board of Education President Brian Holst said they have improved the college readiness of students.
The Board asked the Assembly to consider the question of what should the Juneau school district look as priorities over the next five years.
Assembly Members asked for more vocational programs. They also would like to ensure that the school district transportation program is more efficient with concerns about half-empty school buses.
Assembly Member Wade Bryson would like more basic and practical classes that teach students basic life skills they can use like cooking.
Assembly Member Carole Triem defended arts programs.
Assembly Member Maria Gladziszewski said a goal should be fostering a love of life long learning and reading.
Assembly Member Loren Jones said most parents in this community want their kids to go to college more than vocational jobs like construction or mining. He said life skills like showing up to work on time is as much a parental responsibility as a school's responsibility.