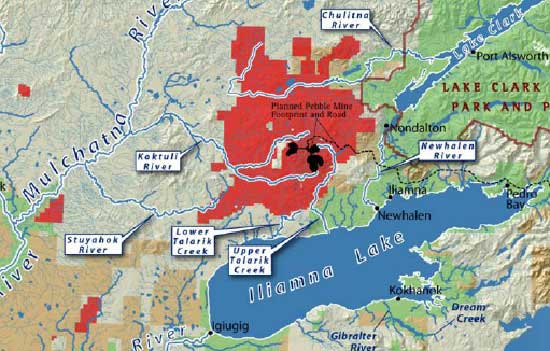 Washington, DC (KINY) - Threats posed to the Bristol Bay watershed by the proposed Pebble Mine took center stage in Washington, D.C., at a hearing last week of the House Transportation and Infrastructure Committee.
According to Fish Radio's Laine Welch, opponents are hopeful the hearing might help put the brakes on the Pebble permitting process.
"If Pebble is developed, there is no doubt it will forever change who I am, who my people are, where I come from. And it will rob our children's children of their right to continue being Native people as we have for thousands of years in Bristol Bay," said Alannah Hurley, executive director of United Tribes of Bristol Bay.
Alaska Public Radio reported that Pebble Partnership CEO Tom Collier, the only witness to support the mine, "tilted back in his chair and looked at the ceiling as Hurley spoke."
Alaska Congressman Don Young, who has not taken a position on the mine, criticized the witnesses for "not being scientists."
In a video of the hearing, Young said: "You're not listening to the science. You are saying a lot of what-ifs. Can and cannots. Should we or shouldn't we. And this committee has a responsibility to review those that are directly involved. Not those that may be affected about it. It's about science."
Committee Chairman Peter DeFazio (D-Oregon), an outspoken Pebble critic, questioned the permitting process. He had especially harsh words about the way in which the U.S. Army Corps of Engineers is assessing the project, which many have criticized as being rushed and sloppy.
"What I first want is a proper review and a proper comment period, and I don't believe the Corps is doing either of those things," he said at the hearing. "And I'm going to push them very hard to push back, even if Donald Trump is pushing on the other side."
DeFazio was referring to a pullback of special protections the EPA had placed on the Bristol Bay watershed in 2014. The restrictions were abruptly lifted this year on July 30 after Trump had a brief meeting with Gov. Mike Dunleavy who supports the Pebble project. That EPA pullback has prompted three lawsuits against the EPA by nearly 20 diverse groups.
Last week's hearing is "typically the first step before an investigation on the permitting process is launched," said Molly Dischner, communications director for United Tribes of Bristol Bay.
The Pebble Partnership has spent over $2 million on federal lobbying so far this year according to public disclosure forms.
A preliminary final environmental impact statement on the project is expected in January.