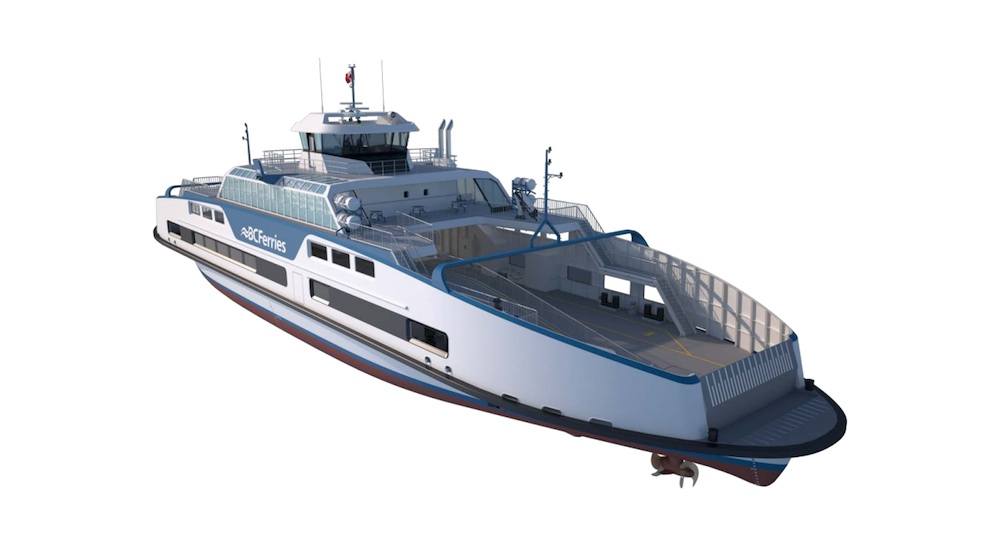 An artist's rendering of the new ferry.
Vancouver (KINY) - BC Ferries has made a further order of four additional electric-battery hybrid Island Class vessels from a major European shipyard.
According to The Daily Hive, the ferry corporation announced Damen Shipyards Group of the Netherlands has been awarded the contract to build the new vessels.
The combined cost of the design-build, fixed-price order is $200 million. According to a release, BC Ferries' procurement process resulted in 18 bids from international shipyards, with a shortlist of nine shipyards invited to participate in the detailed bidding process. No Canadian shipyards expressed interest in competing for the contract.
This adds to the first two Island Class vessels ordered from the same shipyard in Spring 2017, with these vessels recently completing sea trials and set to arrive in Victoria by January 2020. By the middle of next year, these initial vessels will be used on the routes from Powell River to Texada Island and from Port McNeill to Alert Bay to Sointula Island.
Then in 2022, the vessels from the latest order will arrive, serving the routes from Campbell River to Quadra Island and from Nanaimo Harbour to Gabriola Island. This deployment effectively replaces one larger ship with two smaller vessels on each of these routes, providing more frequent service and increased passenger capacity per hour. It will result in shorter vehicle queues, improved safety, and reduced road congestion.
These all-electric Island Class ferries will initially operate on their low-sulfur diesel hybrid systems, before eventually transitioning to electric charging when the technology matures.
Twin propellers reduce underwater radiated noise, and machinery is vibration-isolated to lower underwater and ambient noise. The ferry corporation says these vessels will be amongst the most energy-efficient and quietest electric-hybrid ferries in the world.