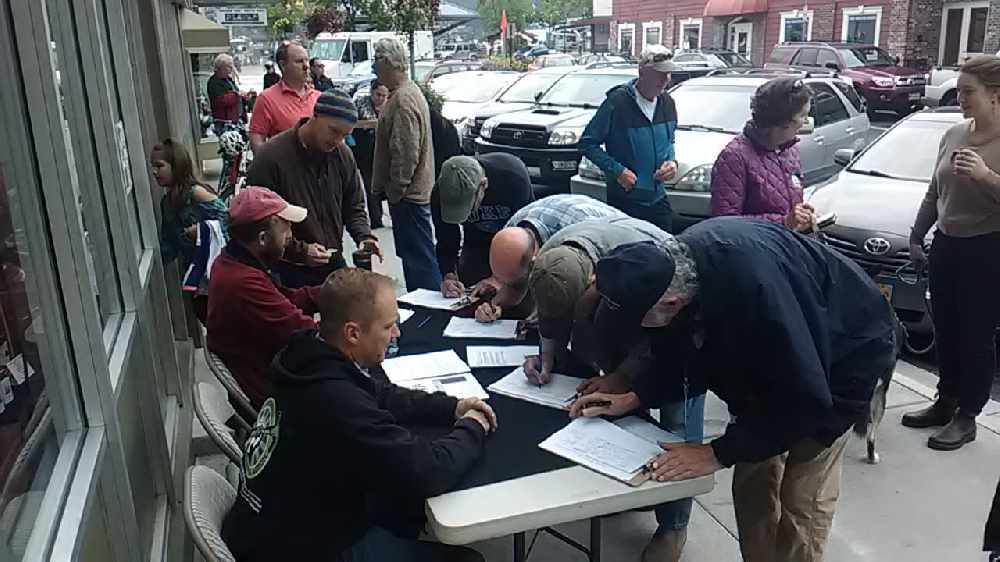 Voters sign a recall petition against Gov. Mike Dunleavy in Juneau.
Anchorage, Alaska (KINY) - Recall Dunleavy filed a Motion for Summary Judgment on Wednesday, Nov. 27, that addresses the Division of Elections' refusal to certify the recall application.
According to Recall Dunleavy's Claire Pywell, the Motion for Summary Judgment details the "current Governor's disturbing displays of careless and illegal decision making, refusal to uphold and follow the law, and multiple abuses of power. This legal action represents a critical step in allowing the citizens of Alaska to exercise their fundamental right to recall."
"The Alaska Constitution expressly grants the people the right to recall public officials, and our grounds are solid," said Vic Fischer, Co-Chair of Recall Dunleavy. "Enough with the politicking. The people are asking for permission to vote and express their will. It is for the voters to decide whether the facts in the recall summary are an accurate basis for each claim and whether they wish to recall the official."
"It's clear this Administration believes it's only bound by some laws, and not by others. Alaskans deserve a Governor who will do his duty to faithfully follow the law as required by the Alaska Constitution," said Jim Dodson, Recall Dunleavy Steering Committee Member.
The Governor's opposition to the Motion for Summary Judgment and Cross-Motion are due Dec. 16. Oral argument will be held on Jan. 10, 2020.