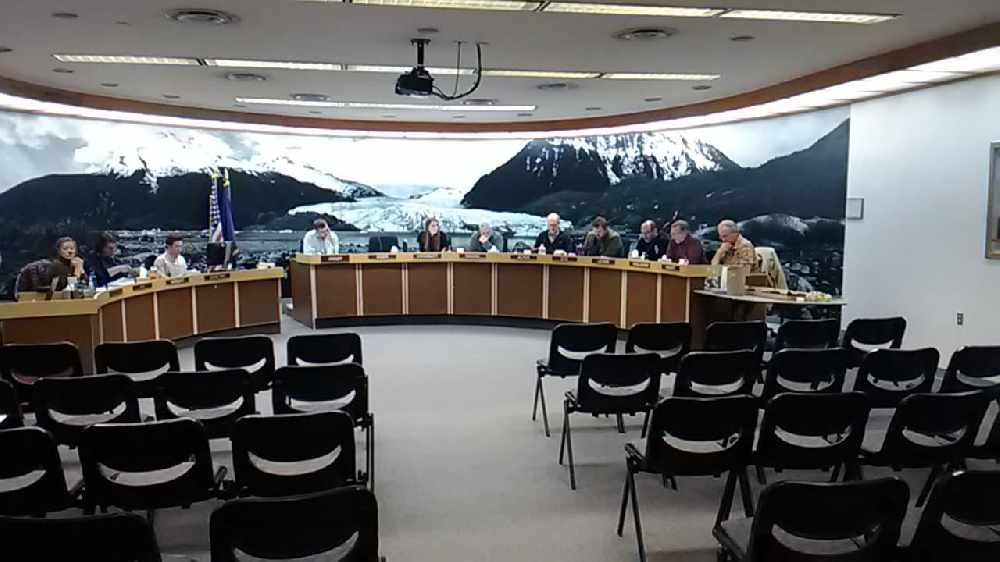 The CBJ Planning & Zoning Committee of the Whole.
Juneau, Alaska (KINY) - The CBJ Planning Commission has structured a review to include both a summary of general policy recommendations that fall under the Planning Commission's purview, as well as a list of recommended specific projects that follow from the general recommendations.
The recommendations start in Fiscal Year 2021 and run through Fiscal Year 2026.
The commission has identified three general categories which are relevant to its review authority and should inform a commission evaluation of the consistency of potential Capital Improvement Projects with the Comprehensive Plan: Housing, Community Vitality, and Sustainability.
In terms of housing, the goals are to develop incentive programs to promote new housing development. Such programs should derive from recommendations of the CBJ Housing Officer, Committee on Affordable Housing, Economic Development Plan, and the Housing Action Plan; Focus housing initiatives in the near-term on Downtown, which the Commission identifies as under-served by CBJ efforts to improve and increase housing stock Borough-wide; And to explore public/private mechanisms to help create new or renovated housing inventory, with a focus on under-utilized facilities in the downtown core.
Regarding community vitality, the commission wants to see a focus on downtown infrastructure, given the rapidly increasing levels of seasonal visitation. Projects should address vehicular and pedestrian traffic congestion, waterfront vitality and access, lessening of homeless impacts, and increased full-year economic vitality.
The commission also wants to initiate goals from the Lemon Creek Area Plan. This planning process was undertaken by the CBJ as a way for the community to articulate goals for Lemon Creek and to identify priority CBJ projects, including recreational areas, parks, trails, and community facilities.
Regarding sustainability, the commission wants to prioritize and enact recommendations from the Climate Action and Implementation Plan and Juneau Renewable Energy Strategy. The commission also says they want to work aggressively toward greater hydro utilization and building energy efficiency.
Prioritizing recycling and landfill diversion strategies is also a key factor and the commission wants to continue to support and analyze opportunities for organic waste composting, and recycling diversions from the land fill, all while beginning to plan and design for a composting facility, and more robust recycling initiatives.
Specific projects under the advisement of the commission are:
Housing: Implement an incentive program for the creation of new apartments in Downtown mixed-use facilities. The focus should be on renovation of underutilized existing properties. Recent 1% sales tax funds and/or property tax abatements should be explored as appropriate funding sources.
Community Vitality: Implement capital project improvements from the Lemon Creek Area Plan. Of listed potential projects, a new bike trail linking Twin Lakes, crossing the wetlands, Lemon Creek, and connecting to Glacier Highway near Switzer Creek was a high priority. This bike trail comports with the 2001 Area-wide Transportation Plan and would link Lemon Creek residents in a positive way with adjoining Juneau neighborhoods. Implement a seasonal Downtown circulator with simple on/off transit stops that link primary pedestrian areas, including the tram/dock area, transit center, and Auk Village District. This step would lessen traffic congestion in the downtown core, particularly South Franklin Street. Great enthusiasm has been shown for this step in on-going "Blueprint Downtown" studies, with a further recommendation to utilize electric buses, and make ridership free.
Housing: Complete the mass wasting study across the downtown area and enact new land use maps that reflect updated risk assessment. New mapping may increase the inventory of developable land. It will remove financing barriers where development ambiguity on properties currently exists. A study would have the benefit of providing a better understanding CBJ liability and establishing a more accurate risk assessment.
Sustainability: Continue to develop a community-wide electric vehicle (EV) plan that supports adoption of EV's, acknowledges EV benefits, and encourages and coordinates public and private development of charging infrastructure. Such a plan would include consistent EV parking and charging policies and signage, require that all CBJ construction and street projects plan for and incorporate EV charging infrastructure where economical and practical. Develop baseline metering of city energy use. The city should integrate tracking software to monitor CBJ energy use consistently across all departments and facilities. This will provide necessary information to guide future CIP decisions and to better understand the energy efficiencies that can be gained.