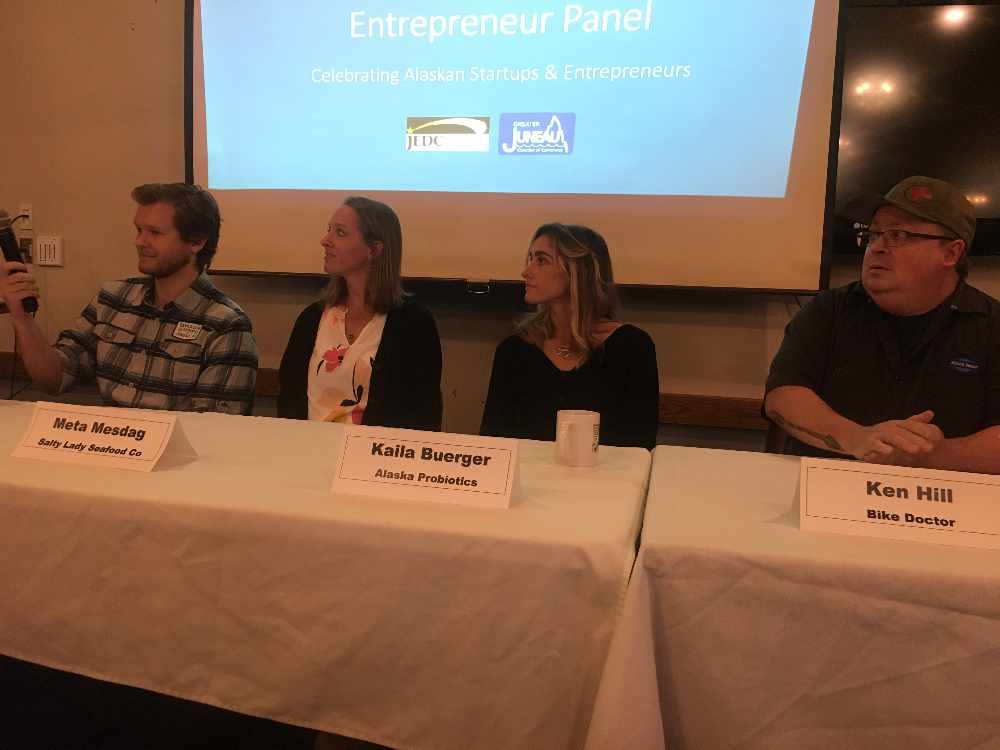 (L-R) Evan Wood, Meta Mesdag, Kaila Buerger, and Ken Hill.
Juneau, Alaska (KINY) - Four local entrepreneurs were the focus of the weekly luncheon of the Greater Juneau Chamber of Commerce.
Evan Wood of Devil's Club Brewing, Meta Mesdag of Salty Lady Seafood Company, Kaila Buerger of Alaska Probiotics and Ken Hill of the Bike Doctor were the featured speakers.
They went into the history of the business and what sparked interest in them to start a business.
Mesdag said she wanted to be outside with her children and wanted a business they could be involved with. 18 months ago, she leased a parcel for the mariculture farm.
Buerger was visiting Nicaragua when she drank a fermented beverage Kombucha and was hooked. She said it made her toes tingle. She wanted to learn how to make it. She became inspired by fermentation and wanted to find natural healing medicines. She said her goal was to have people drinking healthy beverages. She leased a spot and is in the process of creating her business.
Hill worked for Adventure Sports for several years. He kept his eyes on a business opportunity. He said there was a need for a bicycle service center due to the number of bike users in the valley. Today they sell parts, sell new and used bikes and focus on bike repairs.
Wood said Devil's Club came about because he likes beer. He holds a neuroscience degree but found it boring and beer was more fun. He said the community needed a tap beer brewery with a focused, on presence experience.
Other topics included a brief story about what they have learned in their business. Buerger said learning to remain positive and dealing with setbacks was a lesson she learned. Hill said he didn't plan for the overwhelming response he had for the business and had to double the space they lease for the business. He said he learned the value of planning ahead and making adjustments. Wood said he found it is better to do quality work and not rushed work and give ample time to details. Mesdag said taking advantage of leads and opportunities were important.
Another topic was the most important skills and attitudes that helped them become successful entrepreneurs. Hill said being on top of something that looks like an opportunity, no matter how busy, and giving yourself time and space to think, are important.
Wood said perseverance and diligence in finding solutions were important to success.
Mesdag said working problems from every different angle is important.
Buerger said asking as many questions as possible, visiting similar businesses and maintaining the mind set of learning were important in the development of her business. She said a business owner should never think they know everything there is to know about that industry.
Devil's Club has employed up to 20 people and continues to grow. They are looking for ways to expand the operation and could need a larger space. Mesdag is awaiting some certification on water before she can sell oysters. She hopes to sell oysters in early 2020.
The Bike Doctor has two part-time employees.
Several events will be held next week hosted by the Juneau Economic Development Council. The list of events include a discussion on health issues at COPA on Monday, a prototype workshop on Tuesday, a go-to a market Wednesday at JEDC at 612 Willoughby Avenue, a Juneau Travel Hive on Thursday at 5:30 pm at the hangar ballroom with a focus on winter time tourism, and Generation Startup a movie about start-up businesses at the downtown library on Friday night.