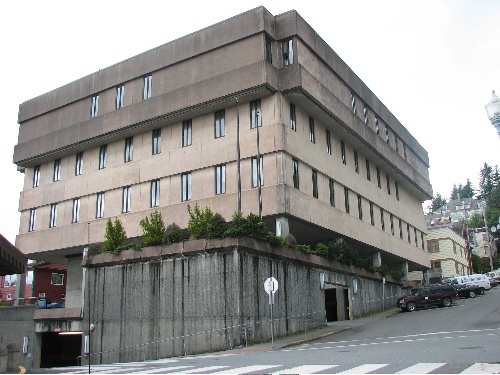 The Ketchikan courthouse.
Ketchikan, Alaska (KINY) - A Ketchikan man will spend time in state prison after pleading guilty to misconduct involving a weapon and drugs.
Jonathon Oaksmith, 28, was sentenced to 18 months in prison on Wednesday. He was arrested in May on charges of weapons misconduct in the third degree and violation of conditions of release.
A dispatch from Alaska State Troopers said they contacted and arrested Oaksmith in the 4200 block of Don King Road after they observed the suspect sitting inside a vehicle.
During the arrest, Troopers said they located a quantity of methamphetamine and heroin with the intent to sell. Troopers went on to report that they also found drug paraphernalia associated with selling narcotics from the vehicle and some non prescribed medication.
Oaksmith was originally charged with two counts of misconduct involving controlled substances in the third degree, misconduct involving a controlled substance in the fourth degree and violation of conditions of his release.