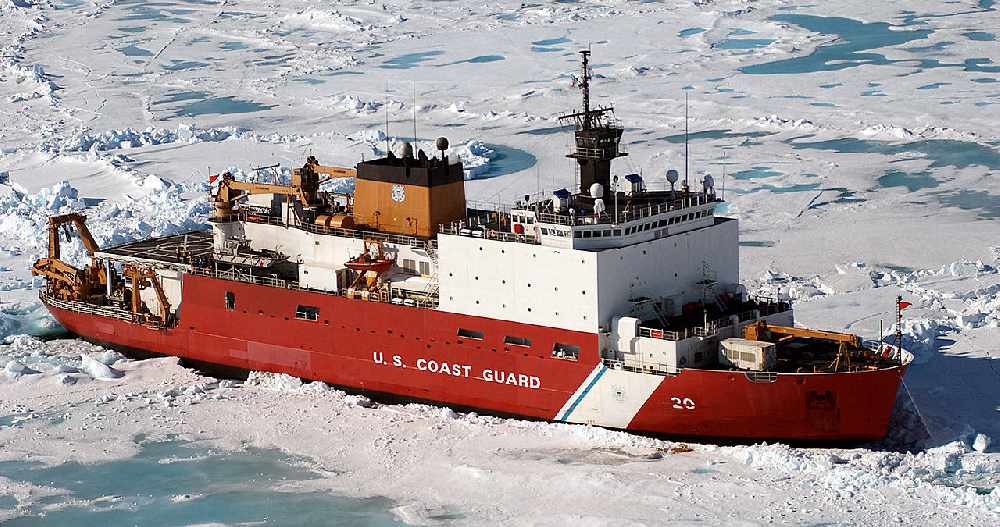 The USCG icebreaker Healy while underway north of Barrow.
Juneau, Alaska (KINY) - The US Coast Guard icebreaker Healy sailed into Juneau this weekend after a long deployment in the Arctic.
The ship, the largest and most technologically advanced in the USCG fleet, is passing through on the conclusion of a 104-day deployment in the Arctic Circle. The ship is homeported in Seattle and departed there on July 22.
The crew spent 71 days north of the Arctic Circle doing research in support of the National Oceanic and Atmospheric Administration, as well as research for the US Navy in the area.
"What is a very unique about Healy is that we have the capability to do data collection in depths of over 3,700 meters," said Healy executive officer Michele Schallip. "The mission that we took part in was abiological observatory with data collection at different levels of the water column, not only for salinity content but for how the water was moving and for sealife like plankton."
There are two icebreakers in the United States fleet right now, the Polar Star, which was built in the 1960s and the Healy. The Polar Star'sand her primary mission right now is with the National Science Foundation at McMurdo in Antarctica. Healy with commissioned in 1999 and is a medium icebreaker at 16,000 tons. Its main mission is to the north, mostly in scientific research.