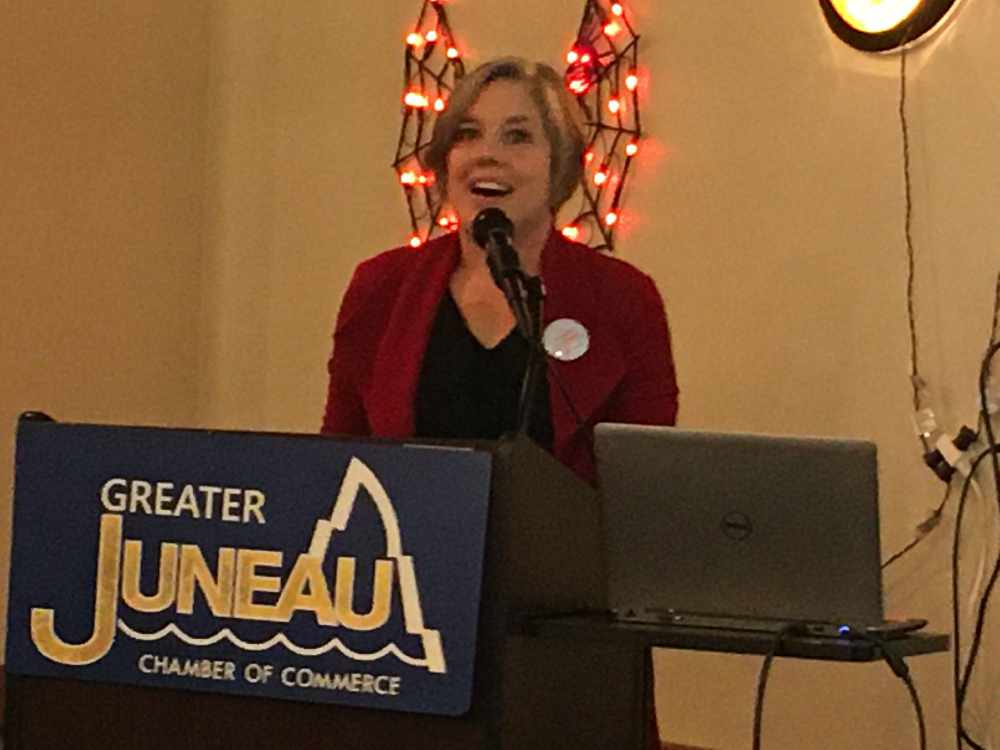 Barb Miranda.
Juneau, Alaska (KINY) - Barbara Miranda of the US Census Bureau was the featured speaker at the weekly luncheon of the Greater Juneau Chamber of Commerce.
Miranda said everyone needs to be counted in the 2020 census. The census is in the constitution. The first census was done in 1790. Many of the census workers arrived on horseback. Things are very different now. A lot of the census can be done online.
The key purpose of the census to apportion the US House of Representatives.
The census includes nine questions. It will ask how many people live in the home, do you own or rent, phone numbers, the persons name, sex, age, and race and ethnicity. It will not include a citizenship question. The census is about power and money. $675 billion is distributed annually based on population. Over $3.2 billion in federal funds comes to Alaska each year. That is approximately $2,959 per Alaskan counted.
State redistricting will occur in April, 2021. The population determines the number of Alaska house seats we will have. Southeast Alaska currently has four House seats.
The money in Alaska goes to programs for business and industry loans, schools, housing, medical assistance programs, community service block grants, the rural electrification loans and loan guarantees, highway planning and construction, and child care.
Alaska had the lowest rate of participation in 2010 at 65%. That translates to over 255,000 people. The CBJ rate was 75% or about the national average. 7,850 Juneau residents required follow up from census enumerators. Hoonah-Angoon had a rate of 34 percent.
"That is not an under-count. The census bureau will knock on doors up to six times to get a response from that household."
Experts suspect that rural Alaska was under-counted by eight percent in 2010. If that happens again, that under-count could potentially cost Alaska $966,000 per year in federal funds.
The hard to count include frequent movers, snowbirds, lower-income, renters, veterans, season and migrant workers, children under 5, the homeless, racial and ethnic minorities, rural communities, senior citizens, the disabled, foreign-born, immigrant populations, college students, and tribal members. The census does count foreign-exchange students.
They also count inmates at Lemon Creek Correctional.
"All of Alaska is considered hard to count," she added.
This is the first census with an online option. Everyone can respond online.
Deputy City Manager Mila Cosgrove is head of the CBJ Complete Count Committee. The goal is to increase awareness and encourage residents to respond to the 2020 census. They plan to hold a local meeting on November 15.
Miranda emphasized the Census is safe and confidential and the census will not disclose any personal information to anyone including other government agencies.
They are also offering temporary census jobs that pay between $28 and $31 per hour.
More information can be obtained at alaskacounts.org
In other actions;
Wayne Jensen of the Alaska Committee encouraged donations to continue Gavel to Gavel on 360 North. He said more financial help is needed this year due to state budget cuts.
The donations are being accepted for the 2019 Racheal Macleod Christmas Dinner Box program. The goal is to provide 360 dinners for Juneau families this year.
Donations can be made at www.gofundme.com/2019-racheal-christmas-dinner-box