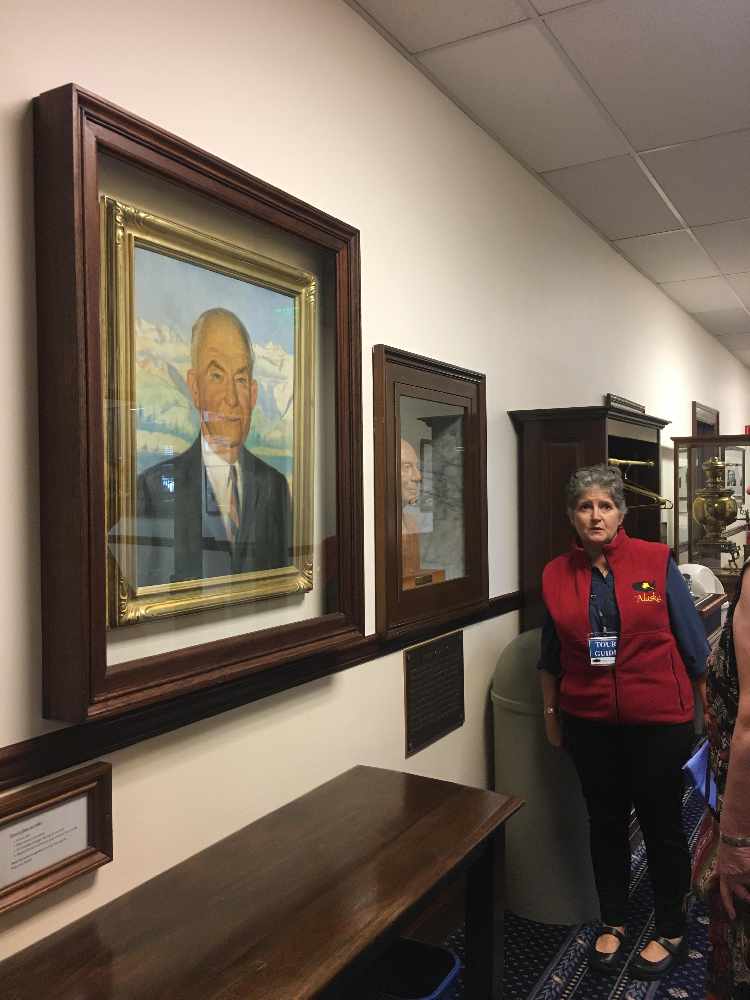 Betsy Longenbaugh leads a tour through the Capitol on First Friday. (Photo credit to Charles Murphy).
Juneau, Alaska (KINY) - The Juneau-Douglas Museum hosted a successful tour of the Alaska State Capitol building on Frist Friday.
Tour guide Betsy Longenbaugh said it has been a great idea for the museum to offer tours
"It has been very fun to do tours with Juneau residents instead of just visitors. The locals are telling me things I didn't know which is always great."
There are plenty of questions about contemporary portraits and the various historic portraits that line the halls.
Her favorite is the walkabout of a polar bear in one of the hearing rooms.
They don't replace a lot of the portraits in the halls and meetings rooms.
The artwork includes work by Joan Bugbee Jackson in the Lobby. It is called Harvest of the Sea. The fired clay mural shows men fishing in Alaska before 1931. Another piece Harvest of the Land was installed by Jackson in 1981.
Harvest of the Land shows Alaskan natives hunting in the interior.
The marble in the lobby and throughout the building is Tokeen and Gravina marble from Prince of Wales Island.
There are also busts of Elizabeth Peratrovich in the lobby and the State's first two US Senators Ernest Gruening and Bob Bartlett on the
second floor.
The Capitol houses artwork by a variety of artists including Sydney Laurence, Byron Birdsall, and Herb Bonnet.