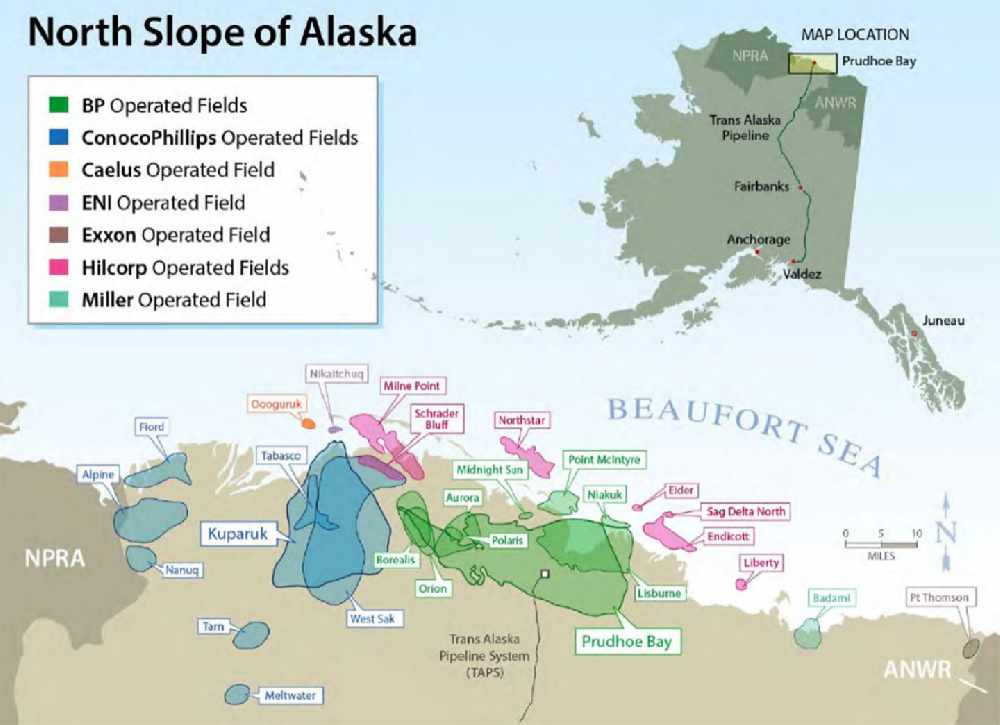 A diagram showing BP holdings on the north slope. (Provided by BP Public Affairs)
Anchorage, Alaska (KINY) - They will sell out to Hilcorp for $5.6 billion. The transaction includes the Prudhoe Bay field and the Trans Alaska Pipeline.
Bob Dudley, BP group chief executive, said: "Alaska has been instrumental in BP's growth and success for well over half a century and our work there has helped shape the careers of many throughout the company. We are extraordinarily proud of the world-class business we have built, working alongside our partners and the State of Alaska, and the significant contributions it has made to Alaska's economy and America's energy security.
Dudley also spoke highly of Hilcorp, "As a highly-capable operator with extensive Alaskan experience, Hilcorp is ideally placed to take this important business on into the future, continuing to optimize its performance and maximize its value for the State of Alaska. We are committed to a safe and smooth transition of operations so that our employees, partners and local, state and federal government officials all feel that we have handed over these important assets in the right way."
The deal is subject to state and federal regulatory approval and the transaction is expected to be completed in 2020. The deal forms a significant part of BP's plan to divest $10 billion of assets over 2019 and 2020.
BP began working in Alaska in 1959, drilling the confirmation well for the Prudhoe Bay oilfield in 1968 and in the mid-1970s helped build the 800-mile Trans Alaska Pipeline. BP began producing oil from Prudhoe Bay in 1977. The giant oilfield – the most prolific in US history – has to date produced over 13 billion barrels of oil and is estimated to have the potential to produce more than one billion further barrels.
Approximately 1,600 employees are currently associated with BP's Alaska business and BP is committed to providing clarity about their future as soon as possible as part of the transition process with Hilcorp.
Hilcorp has been operating in Alaska since 2012 and is today the largest private oil and gas operator in the state, currently operating more than 75,000 barrels of oil equivalent a day gross production. In 2014 Hilcorp purchased interests from BP in four operated Alaska North Slope oilfields.
U.S Senator Lisa Murkowski thanked BP for the work they did for Alaska, ""We thank BP for its long-standing partnership on resource production in our state and for the many significant and lasting philanthropic contributions it has made in our communities," Murkowski said. "I'm looking forward to learning more details and am encouraged that an enterprising company like Hilcorp sees so much opportunity in Alaska and is willing to make such significant investments in one of the most prolific and under-explored basins in the world. Hilcorp has a strong record of hiring Alaskans and I hope they will continue and strengthen our record of responsible production on the North Slope."
Senate Minority Leader, Democrat Tom Begich praised the partnership BP had with the state over the years, "While the relationship has sometimes been contentious, the partnership with BP in Alaska has been critical to the growth of our state. We look forward to a good working relationship with Hilcorp and continued collaboration with the industry. Together we can move forward towards a sustainable budget, a strong infrastructure that supports economic growth, and provides educational opportunities and safe environments that will continue to attract and retain business in Alaska."
Gov. Mike Dunleavy said today's announcement was a passing of the torch within the Alaska oil and gas sector, "This is significant news for our state, the future of North slope energy production, and the Trans-Alaska Pipeline. While we are only just reading of this announcement, we look forward to learning more and seeing operational details," said Governor Dunleavy. "We welcome Hilcorp to their next phase in Alaska operations and thank BP for their decades-long commitment in bringing Alaska's mineral wealth to market.
"As Alaska's Governor, I will continue pushing to make Alaska 'Open for Business' with a vision for new investment, added production, and a regulatory environment that ensures safe and responsible development to Alaska's fullest potential