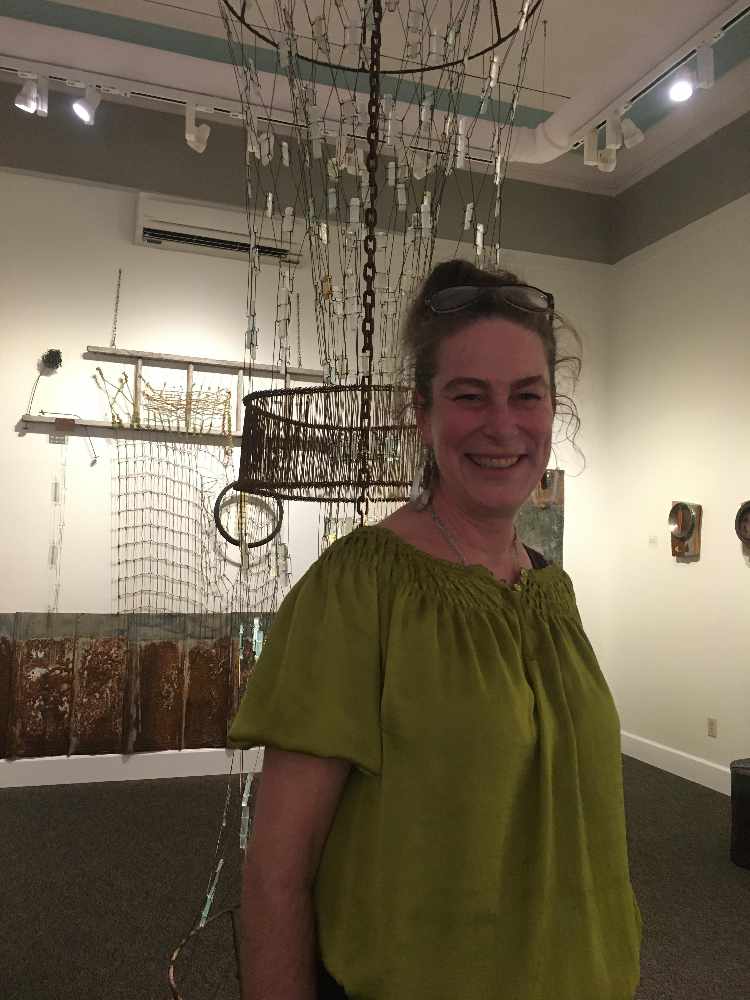 Artist Rachael Juzeler.
Juneau, Alaska (KINY) - Juneau artist Rachael Juzeler doesn't have a problem finding materials to create her artworks.
She uses refuse and items not commonly seen as pieces of art.
She has repurposed salvaged and discarded materials into art pieces.
Her art is now the exhibit at the Juneau Douglas City Museum. It is called ReConstructed Refuse V. It is on display from now through Nov. 29.
Juzeler will give a talk about her art on Nov. 23 at 10:30 am.
Juzeler said she is excited to put on this exhibit, "This show is a long time in coming. I've been working on it for years. I've reused the stuff I've had in my life, trying to clean out corners and making art out of it."
Juzeler has enjoyed art since she was young and is glad the City Museum took an interest in her work.
She graduated from Evergreen State College with a degree in art. She acquired a glass kiln in 2010.
One of her main pieces is a chandelier. She said it took her two years to get the piece ready for the exhibit.
"This one is 10 to 12 feet and I've only seen it in my living room. It is nice to see the entire thing standing," she added.
Juzeler also has a passion for community cleanups and notes she often finds items during these cleanups she can use in her artwork.
She responded to the question of why she sees art when others see garbage, "I've been trying to figure that out. I'm been teaching a lot of kids lately. I ask myself how do I get them to see this broken pile of window blinds I found last month, and how do I get the kids to look at this and see art in it. It is a mystery. I'm not sure exactly why my mind works that way."
Audio from Rachael Juzeler.