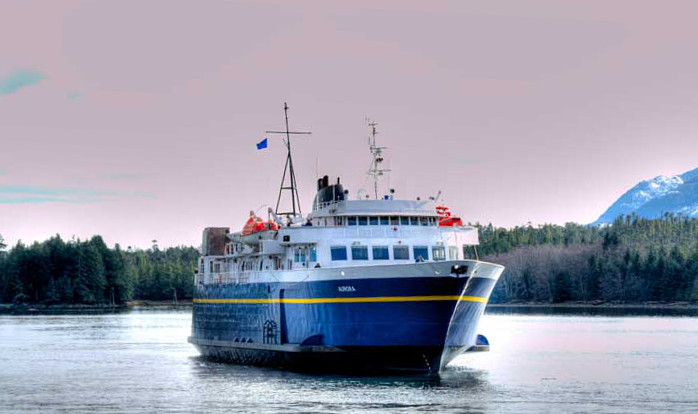 The M/V Aurora.
Juneau, Alaska (KINY) - Service to two vessels at the same time is causing a problem for the Alaska Marine Highway System.
The M/V LeConte is in need of an overhaul. The system budgeted $1.2 million for repairs. The estimated repair bill is $4 million because extensive work is needed on the steel hull. Repair work on the LeConte will begin Nov. 4.
The M/V Aurora will be serviced at the Vigor shipyard in Ketchikan on Nov. 4. The vessel will receive an annual overhaul. Repair bill estimates for the Aurora are expected to be available Nov. 15.
Spokesperson Sam Dapcevich said the AMHS does not have the budget to repair both the LeConte and the 44-year-old Aurora. Based on estimates, repair work will proceed on the vessel that requires the least amount of work.
There will be no service until further notice for Angoon, Tenakee, Pelican and Gustavus. Haines and Skagway will have one ferry per week. Hoonah will receive two ferry trips each month.
Dapcevich said the AMHS is exploring possible alternatives to continue service while the LeConte and Aurora are offline.
Schedule information is available at www.FerryAlaska.com, by calling the AMHS Reservations Center at 1-800-642-0066, or by visiting ferry terminals throughout the ferry system.