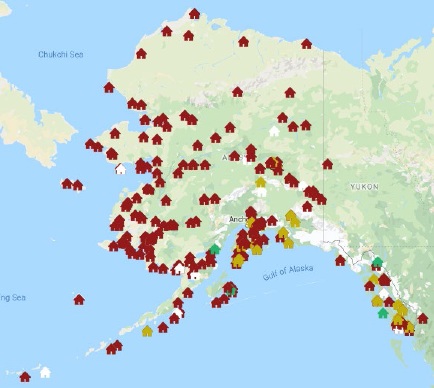 A red schoolhouse indicates a student average of 51 to 100 percent below proficiency for all grades and subjects tested.
Anchorage, Alaska (KINY) - Alaska Policy Forum has published new interactive maps of the 2019 Performance Evaluation for Alaska's Schools, or PEAKS, results.
PEAKS assesses the proficiency of public school students from 3rd to 9th grade in English Language Arts and Mathematics.
Although the PEAKS scores are available online from the state on a per-school basis, APF's maps aggregate the results in a visual tool that allows users to view and compare scores from schools across the state.
"When viewing PEAKS results by school, it is difficult to grasp the extent of the problem facing Alaska," said Bethany Marcum, the Executive Director at Alaska Policy Forum. "But when viewed in the aggregate, it becomes clear that our state is failing young Alaskans and needs to take action to ensure their proficiency in reading and math."
Alaska Policy Forum publishes the PEAKS maps annually in an endeavor to increase government transparency by displaying the performance of Alaska's public schools in an accessible format. The maps are available online at peaks.alaskapolicyforum.org.