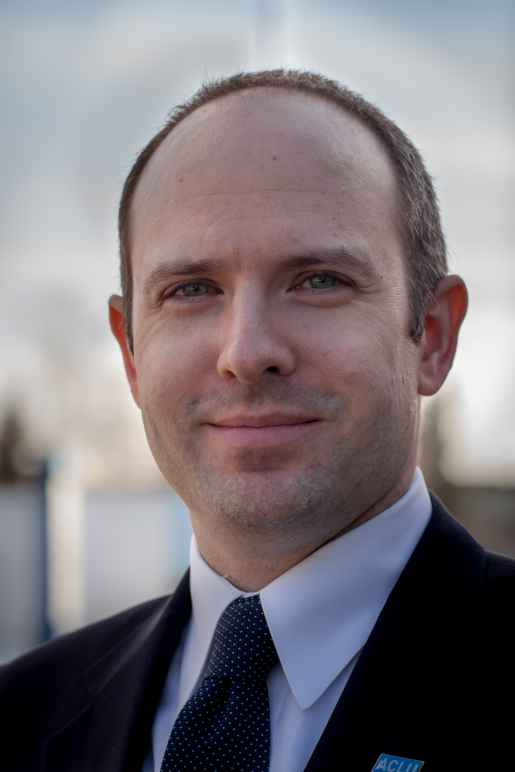 ACLU of Alaska Executive Director Joshua Decker. (Courtesy photo from ACLU.)
Anchorage, Alaska (KINY) - The ACLU of Alaska has been busy in the courts battling the Dunleavy administration in 2019.
They have sued over what they term, "punitive" cuts to the court system.
They argue it was retaliation for the Governor not liking a court ruling on abortion.
ACLU Executive Director Joshua Decker said a hearing will be held next week on this case.
"The Governor's unconstitutional veto of $335,000 from the Alaska court system because he disagreed politically with their abortion rights ruling in February, violates the constitution, violates the guarantee of separation of powers and threatens every Alaskan. All our rights depend on independent judges who are going to honestly apply the law and not try to make decisions based on a fear that their budgets are going to get cut if the governor doesn't like their rulings."
The ACLU recently sent a letter to the Alaska Department of Corrections with concerns about prison overcrowding and the plan to send inmates out of state. They are seeking public documents on the prison population and the DOC's plans for opening the Palmer Correctional Center.
Decker said there are many reasons to be concerned.
"We are deeply worried. When House Bill 49 rolled back criminal justice reform we all knew the prison population would swell. The DOC said the plan was to reopen Palmer Correctional. The legislature gave them $16 million to do that."
The ACLU expects to get documents from the DOC on the prison plan. They argue it won't help prisoners be reformed when all of their support systems are hundreds of miles away.
The ACLU is preparing a lawsuit against the Nome Police Department over alleged lack of investigations into sexual abuse of women
in the community.
In January of this year, the ACLU of Alaska Sued Governor Dunleavy over what they described as the illegal and politically motivated firing of state employees who failed to sign a loyalty pledge to the Governor. The clients include former Assistant Attorney General Libby Bakalar and former Alaska Psychiatric Institute Administrators Dr. Anthony Blanford and Dr. John Bellville.
Decker said a trial in the case is likely one year away
Decker said they are also keeping an eye on the Dunleavy administration over any retaliation taken against state employees who support the Governors recall
Decker also planned to be in Juneau to answer questions tonight after a showing of the play, the Blue Ticket, that dramatizes the removal of gay men by police and the US Coast Guard by giving them tickets on the ferry back in the 1960s.
Audio from Joshua Decker on legal arguments in the Governor's loyalty pledge for state employees.